Custom Synthesis Service for PseudoUridine Modified RNA
BOC Sciences has been committed to providing a range of pseudoUridine products with high quality and purity to customers all over the world, as well as a one-stop customized pseudouridine modified RNA service for you. Based on advanced equipment, professional technical team and mature synthesis methods, BOC Sciences can comprehensively meet all your needs in pseudouridine modified RNA.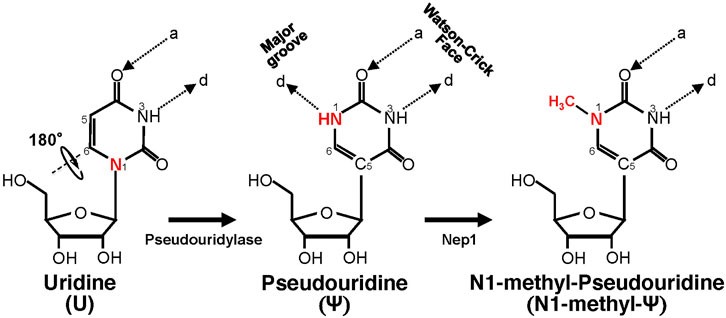 Figure 1. U-to-Ψ isomerization and additional N1 methylation. (Pedro, M.; et al. 2021)
BOC Sciences' PseudoUridine Modified RNA Custom Synthesis Service
Custom Pseudouridine Modification Service
BOC Sciences offers a range of off-the-shelf pseudoUridine as well as custom site-modified pseudouridine services.
Modified PseudoUridine
Pseudouridine Modified RNA

Pseudouridine Modification in RNA
PseudoUridine Modifications in rRNA
PseudoUridine Modifications in snRNA
PseudoUridine Modifications in RNAi
Pseudouridine Modifications in mRNA
PseudoUridine Modifications in tRNA
BOC Sciences offers high-throughput RNA sequence design, optimization and synthesis based on our sensitive RNA synthesis platform. In addition to pseudouridine modification services, more other RNA modifications are also available at BOC Sciences.

Figure 2. The types of modified nucleotides on native mRNA.
Purification & Characterization
Purification
Characterisation

HPLC
MS
Gel Electrophoresis
PseudoUridine Modified RNA in Vaccine R&D
The introduction of pseudouridine or N1-methyl pseudouridine into mRNA may be effective in reducing the immunogenicity of mRNA vaccines, enhancing the stability of mRNA, and enhancing its protein expression. Two new crown mRNA vaccines currently on the market include mRNA-1273 (Moderna) and BNT162b2 (Pfizer-BioNTech), both of which use N1-methyl pseudouridine triphosphate (m1ψTP) instead of uridine triphosphate (UTP). In contrast, German vaccine giant CureVac's new crown mRNA vaccine CVnCoV has a low efficacy of 48%, which the researchers speculate may be due to the fact that CVnCoV does not use modified nucleosides. The use of pseudouridine or N1-methyl pseudouridine substitution may become a trend in mRNA vaccine production, with potential applications in infectious disease prevention and cancer therapy.

Figure 3. Structure of pseudouridine modified mRNA for the new crown vaccine.
Highlights of BOC Sciences' Custom Synthesis Service
Expertise: BOC Sciences has a team of experienced professionals and cutting-edge technical equipment to ensure the highest quality and excellence in its pseudouridine products and custom synthesis services.
Superior Synthesis Technology: BOC Sciences uses superior raw materials and advanced reaction technology to produce products of the highest purity and stability using superior synthesis processes.
Affordable Quality: BOC Sciences prides itself on meeting customer needs without sacrificing quality, offering reasonable prices and unparalleled service.
Efficient Support: BOC Sciences' team of professional service experts operates quickly and responsively to ensure projects are completed quickly and on time to meet customer requirements.
BOC Sciences is always available 24/7/365 and you can contact us for any questions regarding pseudouridine modification.
Reference
Pedro, M.; et al. The Critical Contribution of Pseudouridine to mRNA COVID-19 Vaccines. Frontiers in Cell and Developmental Biology. 2021, 9.